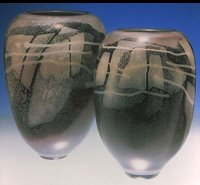 Sally Rogers grew up in Grand Traverse County, in a rural area of northern Michigan. Always drawn to the visual arts, she took her first college course in pottery at the age of fifteen, and went on to take several more college courses in the arts while still in high school. She earned her Associate Degree in Liberal Arts from Northwestern Michigan College, Traverse City, Michigan in 1981, and was the recipient of the Outstanding Student Award for the Fine Arts Department. Majoring in Ceramics, she completed her Bachelor of Fine Arts Degree in 1984, at The Center for Creative Studies –College of Art and Design (CCS – CAD), in Detroit, Michigan, where she was awarded a Merit Scholarship from the Crafts Department.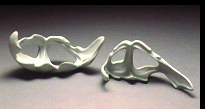 While at CCS, in addition to ceramics, she began working intensively with hot glass in the Glass Department headed by Professor Herb Babcock. Utilizing both glass-blowing and glass-casting techniques, she refined her skills by creating a body of work focused on decorative, functional objects, and also began incorporating glass into her sculptural work.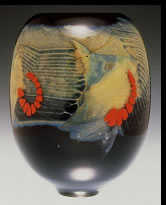 Upon graduation from CCS-CAD, she was hired for the next two years as the Crafts Department Faculty Assistant, where she aided the various departments with studio maintenance, teaching, and clerical work. During this time period she also completed an intensive welding certification course in Royal Oak, Michigan, in 1985. While she had initially taken the course to acquire the welding skills needed to build her own glass shop equipment, she found that she also loved steel fabrication for its sculptural potential. She started combining welded steel forms with her glasswork, and this was the beginning of an enduring fascination with integrating multiple materials into sculptural forms.

In 1986, Sally applied to Kent State University's Graduate Program, and was awarded a full scholarship, as well as the Graduate Teaching Assistantship in the Glass Department. From 1987 through 1989, she taught beginning and intermediate glass courses while completing her Master of Fine Arts degree. In 1987, she was chosen by Kent State University to receive the David B. Smith Fellowship Award. In 1989, she applied for and was awarded an Artist in Residence position at Penland School of Crafts, and moved to North Carolina for a three-year Residency; in addition, she taught classes at Penland School. While focusing on her blown glass and mixed-media sculptural work at the Residents Studio, she also bought land in the mountains of Mitchell County and began building her own glass and sculpture studio. In 1995 she moved into the new studio, and since then has been an independent and full-time professional artist in North Carolina.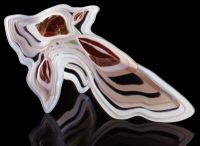 In 1995, she was awarded an Honorary Diploma by The Jutta Cuny-Franz Memorial Award Foundation, in Dusseldorf, Germany, for her sculptural glasswork. She was also a featured speaker for the Glass Art Society (G.A.S.) Conference that year, and taught a workshop in glass casting at Haystack Mountain School of Crafts, in Deer Isle, Maine. In 1996, she was the recipient of a North Carolina Visual Artists Fellowship Grant. That year she also had a Solo Exhibition of her mixed-media sculptures at The Mint Museum of Art, in Charlotte, North Carolina. In 1999, she was selected by The Florida Glass Art Alliance as "Outstanding Emerging Glass Artist of 1999." She also completed her first large-scale public sculpture, a State of Florida Commission for The Appleton Museum of Art, in Ocala, Florida; the unveiling coincided with the opening of her Solo Exhibition at the Appleton Museum, in May of 1999.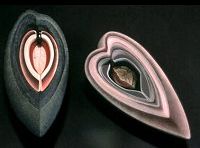 In 2001, Sally was awarded a Regional Artist Project Grant, by The Asheville Arts Council, Asheville, North Carolina. In 2006, she was selected as the Alumnus to represent the Glass Department of C.C.S. - C.A.D, in the College's 100th Anniversary Exhibition. Her work has been selected five times for The Corning Museum of Glass "New Glass Review" publication, in 1989, 1996, 2000, 2005, and 2006. Sally was also honored with the "2015 Outstanding Alumna Award" from Northwestern Michigan College.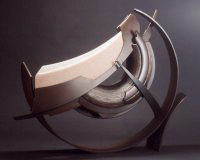 In the past fifteen years, Sally has completed a number of large-scale public art commissions, created with combinations of stainless steel, glass, and granite, for a variety of interior and exterior sites. These include sculptures for The Knoxville Convention Center, Knoxville, Tennessee (2001), The Greensboro Central Library, Greensboro, North Carolina (2002), Warren Wilson College, Asheville, North Carolina (2003), The Dennos Museum Center, Traverse City, Michigan (2004), the City of Charlotte, North Carolina (2007), The Vigo County Public Library, Terre Haute, Indiana (2008), and The City of Chattanooga, Tennessee (2012).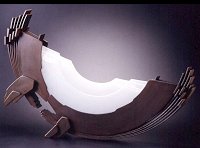 Her work has been featured in many magazines, including American Craft, Neus Glas, Architectural Digest, and Luxe Interiors, and books including "Calido: Contemporary Warm Glass," by Joanne Stuhr (Tucson Museum of Art, 1997), "Insight – A Collector's Guide to Contemporary American Glass," by Ferdinand Hampson, "Glass Today," by Henry Hawley (Cleveland Museum of Art, 1997 ), "A Colorful Cast," by Heather Shumaker (NMC Press, 2014), and "Trumpeting a Decade – Revealing the Heart of a City Through Public Art" (Wabash Valley Art Spaces, 2016). Her sculptures are in numerous public, private, corporate, and museum collections, including The Minneapolis Institute of Art, The Appleton Museum of Art, The Mobile Museum of Art, The Dennos Museum Center, and The Mint Museum of Craft and Design.